Looking for activities for Christmas Parties and in need of some Christmas Party ideas?
Christmas Parties have been celebrated in the world of work for as long as we can remember. From nineteenth century factories to post-war miners, Christmas has always been an opportunity to celebrate and thank your staff for all their hard work.
Christmas Parties aren't always easy to organise so we have a wide range of ideas for you to mull over. We specialise in organising everything from Christmas Party activities to a virtual Christmas Party.
Whether you're a small team looking for a works Christmas do or a large Corporate company looking to do your big Corporate Christmas Event, we're certain we've got something to suit everyone. If you're looking for something different this year then let us help!

Some of our favourite activities for Christmas Parties are a The Office Games: Festive Gameshow or a Christmas Wreath Making Workshop. We also offer Virtual Christmas events including The Big Virtual Christmas Game Show and Virtual Crimbo Bingo.
Our Christmas Party experiences are available across the UK and many experiences are mobile so can come to your location wherever you are. Our Virtual Christmas Party experiences can be delivered globally making them perfect if you have employees and colleagues located across the globe.
We manage your Christmas Party using a simple booking system that will allow you to secure your event with a single deposit. Let us take the hassle away and make things easy.
Begin organising your Christmas Party by selecting your ideal location….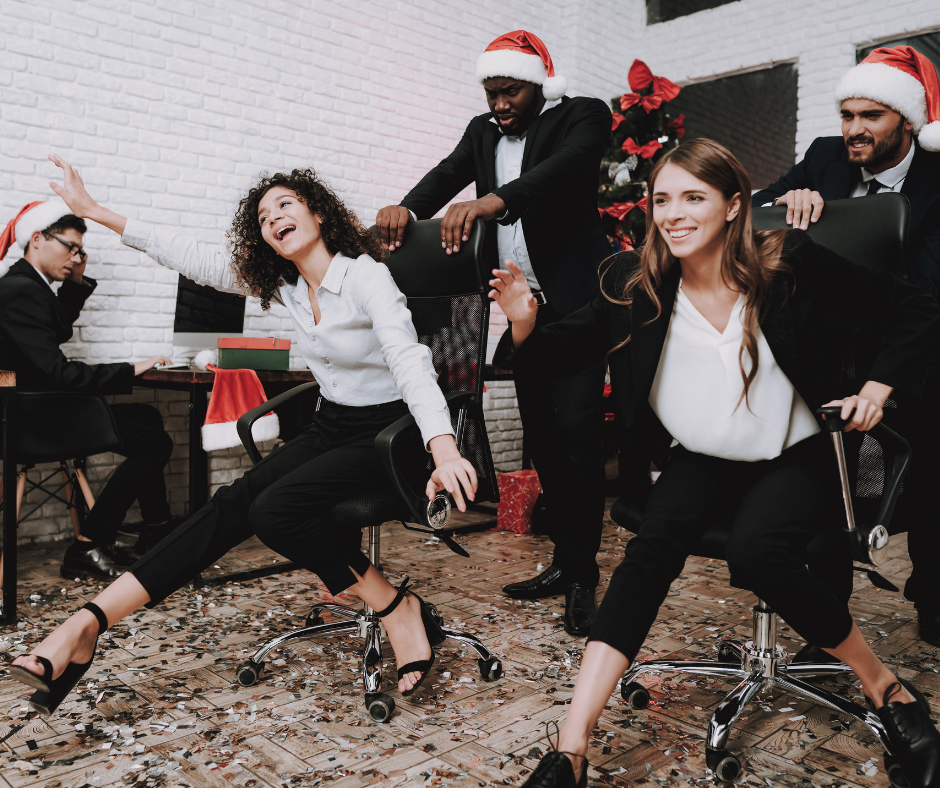 Planning a Christmas Party
Organising a Christmas Party can be a stressful task, using an Events Organiser like us means you get things sorted quickly and easily as we do this day in day out. All you have to do is pick a date!
At Red Cactus Events you can book just one Christmas Party activity or a full package including activities and food. Our website lays out the best activities available to you in each destinations with some of the best prices on the internet. Why not take a look at our blog on Unusual Activities for a Work Christmas Party?
You can manage your whole event on your groups personalised Christmas Party event webpage and let us do all the hard work or organising for you.
Why Book A Christmas Party With Red Cactus Events?
Our team at Red Cactus Events have experience in all things events and we can honestly say, there's no Christmas Party like a Red Cactus Party! We love Christmas and work with the best suppliers so we will do everything to ensure your Christmas Works Do is everything you want it to be and more!
What Christmas Party Activities Do You Offer?
Whether you are looking for a live in person Christmas Party or a Virtual Christmas Party, we can cater to anyone. Our most popular Christmas Party activities include The Office Games: Festive Gameshow or a Christmas Wreath Making Workshop which can come to your office or work space as a mobile activity.
For Virtual Christmas events, our favourites include The Big Virtual Christmas Game Show and Virtual Crimbo Bingo which will put everyone in the festive spirit!
If you want some Christmas Party tips and ideas, take a look at our blog for some inspiration – Click Here To View Our Blog
Alternatively, if you're looking for ideas, fill in our Quick Christmas Party Enquiry Form to get some inspiration and get in touch with our team –